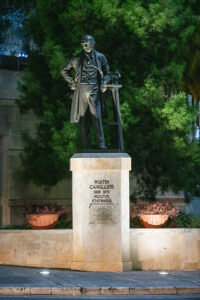 My name is Agostino Camilleri, better known as "Wistin tal-Istatwi". I was born on the 2nd May, 1885. As a child, I was interested in art and sculpture. When I was 10 years old, I joined the Seminary where I received further training in the skills I was interested in. On leaving the Seminary, I moved to Malta and became a trainee of Giuseppe Calì. Calì recognized my artistic talents and encourged me to enrol in San Luca School in Rome to further my studies. I stayed in Rome for three years. I attended also lessons in papier maché with Filippo Coppa.
On my return from Rome, I set up shop at Rabat, in Victoria. I decided to concentrate on papier maché as Malta already had its established painters. The statues I started producing were not only for the churches of Malta and Gozo, but also for emigrant Maltese communities in Australia, the United States and Tunes. My first statue was that of St. Calogero for St Francis Church in Rabat, Gozo. My masterpiece is the statue of the Sacred Heart of Jesus ordered by the Parish of Fontana in 1923. Another important work of art is the statue of the dead Christ made for the Parish of Mosta in 1924. My last statue represents the Betrayal of Judas, made for the Parish of Tarxien. I was ninety years old.
Besides being a statuarian, I did sculptures in various churches. Ta' Pinu Sanctuary hosts about 1800 original designs and twelve sculptures in stone representing the twelve apostles. I was given the title of chevalier as an appreciation of my contribution to the arts as statuarian and sculptor.
This monument is the work of my son Alfred Camilleri Cauchi and was cast in bronze by the Fonderia d'Arte Massimo Del Chiaro of Pietrasanta. It was inaugurated by the Minister for Gozo, Hon. Perit Clint Camilleri, on Friday July 9, 2021.
This post is also available in:

Malti (Maltese)