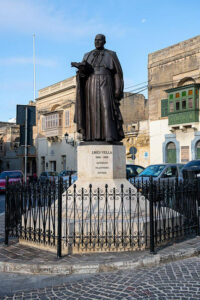 I am Mgr Luigi Vella, better known as "Dun Alwig ta' Savina". I was born on the 10th December, 1859. After completing my primary and secondary education, I started my studies at the Seminary, then run by the Jesuits. I did well in classical studies and philosophy. After ending my studies, I followed a course in Theology. I was ordained priest by Bishop Pietru Pace, at the Gozo Cathedral, on the 19th December, 1882.
As a young priest, I was acclaimed as an eloquent and well-read preacher. The Jesuits appointed me teacher at the Seminary and Prefect of a section of college students.  In 1887 I was appointed chaplain of the Victoria Civil Hospital. I retained the post for twelve years.
During my tenure as hospital chaplain, I furthered my studies in Theology and attained my doctorate in 1900. In the same year I was appointed Theologian Canon at the Gozo Cathedral and later Archdeacon of the same cathedral.
I gave my services as preacher in various churches in Malta and Gozo. My sermons treated different themes but my services were asked for mainly for spiritual retreats and during Lent. I was strongly linked to the small chapel of Ta' Savina.  I dedicated my whole life to this chapel where I cultivated the perpetual devotion for the Holy Eucharist.
I was a prolific writer and my work was published in various periodicals, especially in the Devot ta' Marija. Although it is a religious periodical, it includes articles on social themes and local news. Nowadays, it is a sorce of information for studies on Gozitan society of my times.  I published a number of short books on the life of saints and I wrote three historic novels.
This monument by artist Alfred Camilleri Cauchi and cast in bronz by Fonderia Domusdei of Rome, was inaugurated by the Hon. Dr. Anton Refalo, Minister for Gozo, on 26th June 2015, following an initiative of the National and Regional Celebrations Committee within the Ministry for Gozo.
This post is also available in:

Malti (Maltese)