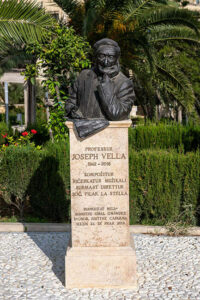 My name is Joseph Vella. I am composer and conductor. I was born at Rabat, Gozo, on the 9th January, 1942. I studied to be teacher at St Michael College in Malta.
I studied music with my father. When I was 12 years old, I had already composed music which I used to play on the violin with my father. At the age of 18, I composed a work for the orchestra which was played at the Manoel Theatre. This work introduced me to the public as a composer.  In 1967 I was admitted a Fellow of the London College of Music. I graduated from the University of Durham and studied composing and conducting in Italy.
My repertoire includes various styles influenced mainly by the neo-classical moviment of the twentieth century. It includes a personal touch and a Mediterranean trait and it has been played all over the world.
I conducted many renowned international orchestras and as member of the Malta Choral Society, I introduced in the Malta choral arena many pieces from traditional and contemporary repertoirs
I served for forty years as director of the Astra Theatre where I conducted many famous operas.  I served as conductor for the La Stella Band and the Konti Ruggieru Band. I was also the first resident musical director of the National Orhestra and the artistic director of the Victoria Arts Festival at St George's Basilica and of Mediterranea organized by La Stella Philarmonic Society. In 1994 I was appointed Associate Professor of Music at the University of Malta.
This bust by Joseph Scerri and cast in bronze by Joe Chetcuti, was unveiled by the Hon. Dr. Justyne Caruana, Minister for Gozo, on the 9th March, 2019.
This post is also available in:

Malti (Maltese)