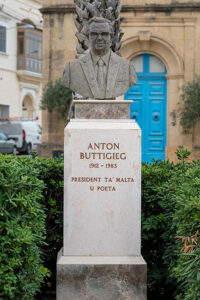 I am Anton Buttigieg. I was born at Qala, Gozo, on the 19th February, 1912. I received my education at the Qala Primary School, the Gozo Seminary and St Aloysius College in Malta.  I graduated in Theology and in Jurisprudence from the Malta University.
I was elected to Parliament in 1956 after having joined the Labour Party in 1955. I served as Deputy Leader of the party after being its president for two years.  In 1971 I was appointed Minister of Justice and Parliamentary Affairs and Deputy Prime Minister. I served as the second President of Malta from 1976 till 1982. During my presidency the British forces left the Maltese Islands on the 31st March, 1979, a day which is commemorated as Jum il-Helsien.
Besides being keen on politics, I was highly interested in the Maltese language. I started writing poetry in 1929 and my poems featured in the Pronostku Malti.  I was member of the Għaqda tal-Malti, founded by Ruzar Briffa, and member of the Għaqda tal-Kittieba tal-Malti, (l-Akkademja tal-Malti).  I am known as the Poet of Nature since nature is a recurrent theme in my poems. My literary work includes elegies and humourous poems. I was the first Maltese poet to write tanka and hajku.  My works were included in many anthologies and earned me a number of prestigious literary rewards.
My autography, Toni tal-Baħri, is spread over three volumes. In my autobiography, I described the political and social settings which affected me and the way I look at life.
This monument was designed by Silvana Aquilina and the work in bronze was executed by my daughter, Maryrose Caruana.  In was unveiled in January 2004 by the Prime Minister Hon. Dr. Eddie Fenech Adami.
This post is also available in:

Malti (Maltese)