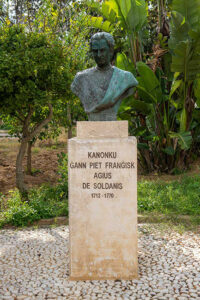 I am Giovanni Agius, better known as Can. Agius De Soldanis.  I was born at Rabat, Gozo, on the 31st October, 1712. De Soldanis is the latinised version of Sultana, my mother's maiden surname.
I received my first education from a Capuchin monk.  Later, I was encouraged by other teachers to continue my studies at the Jesuit College in Valletta. I studied Theology, Literature and Law.  I was appointed Canon of the Gozo Matrice on the 29th October, 1729, even if I was only seventeen years old and had not yet been ordained priest.
When I was ordained priest in 1735, the Gozo Università appointed me preacher for the Advent and Lenten periods of that year. I delivered sermons at the Matrice and reaffirmed my reputation as a good preacher.
With the help of Jean-Melchior, brother of Bishop De Bussan, I continued my studies in the universities of Padova, Firenze, Cortona and Palermo.  I made friends with the best intellectuals of the time and I remained in contact with them even when I returned to Malta.
I became greatly interested in the Maltese language and the history of my native country. I compiled the grammar of the Maltese language in Della Lingua Punica presentament usata da'Maltesi (1750). Between 1750 and 1767, I wrote the first dictionary in Maltese, Damma ta' Kliem Kartaġiniż Imxerred fil-Fomm tal-Maltin u l-Għawdxin, comprising Maltese words used in my time. This dictionary was studied by renowned academics like Vassalli, Cremona and Aquilina. I was also Malta's first librarian.
In 1746, I succeeded in writing the history of Gozo up to that date. It was in Italian and was called Gozo Antico e Moderno, Sacro e Profano. It was translated to Maltese by Mgr. Giuseppe Farrugia in 1936.
This monument, erected in 1964 on the initiative of the Gozo Historical Society, perpetuates my memory. The inauguration ceremony was part of the Independnece festivities  in Gozo and among those present was the Governor-General, the Prime Minister and his Cabinet, and members of the Gozo Civic Council. The commemorative speech was delivered by Ninu Cremona.
This post is also available in:

Malti (Maltese)