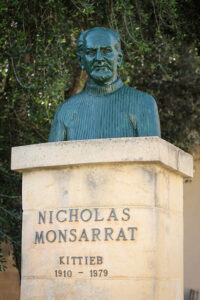 My name is Nicholas Monsarrat. I am not Gozitan but I regarded Gozo as my second home. I am a British writer, renowned for my novels linked to the sea. I was born in Liverpool, England, and was educated at Winchester College and Trinity College, Cambridge. Initially I thought of studying law but then decided to become a writer. I settled in London where I worked as a news correspondent. During my five years as a correspondent, I wrote four novels and a play.
During the war years, I joined the British Navy in the Royal Naval Volunteer Reserve. I served as an officer and had a distinguished career on small warships deployed to protect convoys from enemy attacks. This career influenced my post-war writings, in particular The Cruel Sea, my most renowned novel.
After the war, I served in the diplomatic service in various cities for a number of years. In 1959, I decided to dedicate my time to writing. I settled in different countries until 1968, when I ended up at St Laurence in Gozo. I fell in love with the place and its people with whom I felt at home.
The Kappillan of Malta, written at San Lawrenz, was published in 1973. The story develops in Malta during the Second World War and revolves around Dun Salvatore, a kind and courageous priest, and his heroic work in the community. The story unfolds in different villages in Malta and Gozo. The way the characters react in the novel show how much I had got to know the local people.
This monument, the work of Alfred Camilleri Cauchi, on the design of Mayor Noel Formosa, was unveiled by the Hon. Giovanna Debono, Minister for Gozo on 4th April 2003. It witnesses the bond of friendship and respect between me and the community of San Lawrenz.
This post is also available in:

Malti (Maltese)