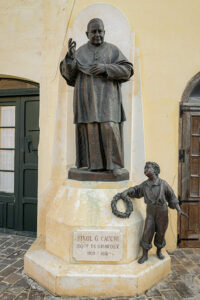 I am Fr. Nikol Cauchi, born on the 2nd March, 1929, at Gharb, a village to the West of Gozo.  I  received my primary education in my native village and then, during WW2, I attended the Lyceum at Victoria, Gozo.
I was ordained on the 29th March, 1952, after completing my studies at the Gozo Seminary. I moved on to Rome where I graduated Licentiate in Social Sciences and Doctorate in Philosophy from the Università Gregoriana. When I came back to Malta I was appointed the fourth chaplain of Fontana on 27th May 1956 and I lasted in this appointment until 1963.
At an early age, I was interested in literature and, during WW2 I wrote my first works about Christmas. I was anointed bishop on Sunday, 9th April 1967. From then on, my literary works covered a wider spectrum, especially on pastoral and spiritual levels.
The early years of my bishopric were marked by changes which I felt had to be done in the Diocese of Gozo, in accordance with what had just been proposed by the Second Vatican Council. The changes included the setting up of various diocesan commissions regarding liturgy, catechisis, human promotion and the apostolate of the laity.
I had always felt the urge to write on different aspects which would help educate and guide laymen in their spiritual needs.  Some of my writings are patriotic in nature and include themes which identify our nation. I included such themes in my Pastoral Letters on special occasions, such as during Advent, Lent and on commemorations of anniversaries of national achviements. I believed that every event and occasion helped our people believe in themselves and feel proud of our identity as Maltese.
This monument, executed by Adonai Camilleri Cauchi in 2016, witnesses my dedication and commitment to the promotion of good as bishop of the Diocese of Gozo and to my literary vocation.
This post is also available in:

Malti (Maltese)